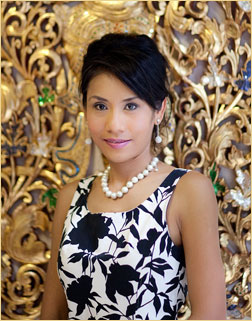 Salin Perayotyucol is a licensed acupuncturist and herbalist.  She completed five year program of Doctor of Traditional Chinese Medicine Diploma from The International College of Traditional Chinese Medicine (ICTCM) in 2009, in Vancouver, B.C. , Canada.
She successfully passed the Provincial Acupuncture licensing exam (R.Ac ) in 2008 and passed the Provincial Herbal licensing exam in 2009 (R.TCMP).
Salin learned from where Acupuncture and Chinese medicine originated. In 2008 she travelled to China and practiced her clinical hours (320 hours) at The Second Affiliated Hospital of Anhui University of Traditional Chinese Medicine where she learned hands on Acupuncture, Chinese Herbal Medicine & Chinese Massage. She spent a lot of time in orthotics/gynecology/endocrinology (including obesity, diabetes)/ Chinese Medicine and Pharmacology. She also spent a lot of time with the inpatient department where she saw a lot of heart and stroke patients.
"At this hospital in China where I practiced my clinical hours, there is two departments that works together as one. One is for modern health care, another is for Traditional Chinese Medicine. Both departments are working together to help patients to get the most benefits" I wish one day that will happen to health care in Canada."
In 2009, Salin opened her private practice in the heart of Kitsilano, steps to Granville Island.
In her private clinic, Salin successfully treats a variety of health concerns including pain management, sport injury, stress/depression, gynecology disorder, cold/flu, digestive disorder, children disorder just to name a few.
" I have been helping a lot of patients with their pain which I have been proud of. I help them go back to work sooner or even in some cases not to have surgery "
Her Facial Rejuvenation is also popular among women who do not want chemicals like Botox in their body but want natural healing and long lasting results " Healthy skin starts from within".
Salin never stops learning. For the last 2 years. she volunteers at Integrative Cancer Centre with mentor, Gerard Tan, who has over 25 years experience in cancer care. On her spare time, she takes classes in continuing education to update her skills, so she can be more current.